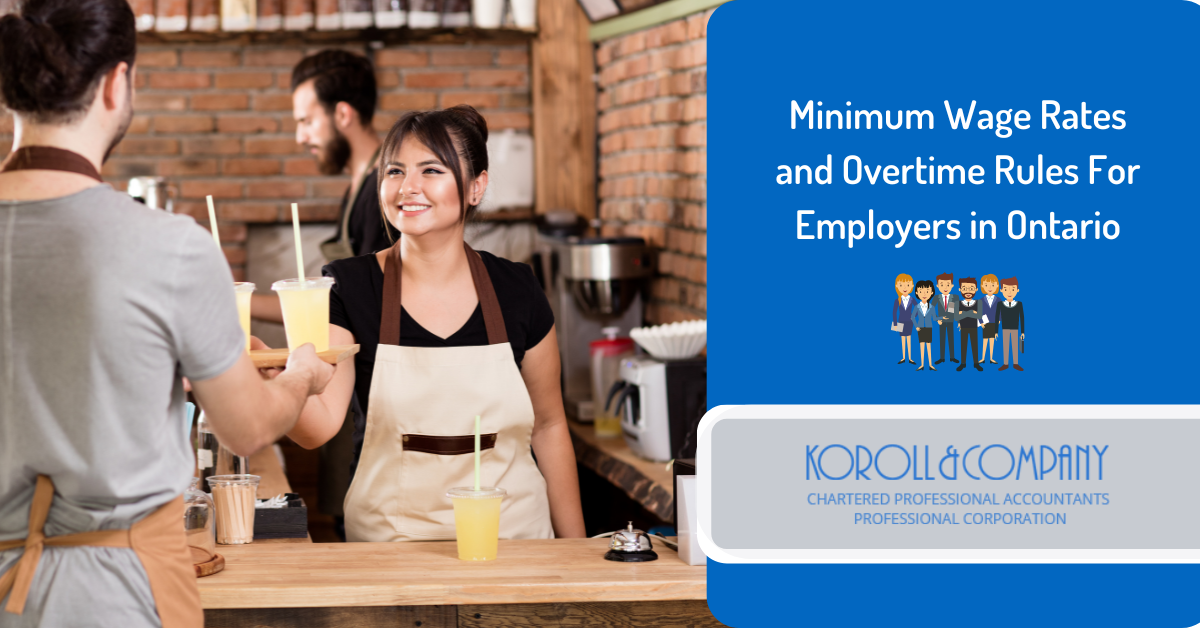 As an employer in Ontario, it's important to understand your obligations when it comes to minimum wage and overtime pay for your employees.
Both of these issues are governed by Federal and Provincial laws and failing to comply with them can lead to legal issues and financial penalties. Here's what you need to know.
What is Minimum Wage?
Minimum wage is the lowest wage rate that employers are legally required to pay to their employees for their work. The amount is determined by the government of the relevant jurisdiction, either provincially or federally depending on who regulates the business.
The minimum wage varies from one jurisdiction to the next, and is typically calculated on an hourly basis. The intention of minimum wage laws is to ensure that workers receive a fair wage for their work and can meet their basic needs for food, shelter, and other necessities. As a result, minimum wage usually increases one or two times a year.
Minimum wage can have a huge effect on the bottom line for many businesses. While you are required to pay minimum wage, you may be able to offset the payroll increase by:
Reviewing and adjusting spending in other areas
Increasing productivity
Improving marketing strategies
Applying for wage subsidies or government funding, if available
What is Overtime Pay?
Overtime pay is a type of compensation that employers are required to provide to their employees when they work more than a certain number of hours in a day or week, as determined by applicable laws and regulations. The overtime pay rate is typically higher than the regular hourly rate of pay, though the exact rate varies by jurisdiction and type of work being performed.
There's a common misconception that salaried employees do not get overtime, but this is not the case.
The intention of overtime pay is to compensate employees for the additional time and effort they put into their work beyond their regular working hours, and to discourage employers from overworking their employees without fair compensation. Overtime laws and regulations can vary by province and industry, so it's important for both employers and employees to be familiar with the specific rules that apply to their situation.
-- Federally Regulated Businesses --
As per the Government of Canada website, federally regulated businesses include:
Federally regulated private sectors:
air transportation, including airlines, airports, aerodromes and aircraft operations
banks, including authorized foreign banks
grain elevators, feed and seed mills, feed warehouses and grain-seed cleaning plants
First Nations band councils and Indigenous self-governments (certain activities)
most federal Crown corporations, for example, Canada Post Corporation
port services, marine shipping, ferries, tunnels, canals, bridges and pipelines (oil and gas) that cross international or provincial borders
postal and courier services
radio and television broadcasting
railways that cross provincial or international borders and some short-line railways
road transportation services, including trucks and buses, that cross provincial or international borders
telecommunications, such as, telephone, Internet, telegraph and cable systems
uranium mining and processing and atomic energy
any business that is vital, essential or integral to the operation of one of the above activities
Federally regulated public sector:
the federal public service
Parliament (such as, the Senate, the House of Commons and the Library of Parliament)
Private-sector firms and municipalities in Yukon, the Northwest Territories and Nunavut
Minimum Wage
The minimum wage for federally regulated industries was previously $15.55 per hour, but this increased to $16.65 on April 1, 2023. Even if April 1 falls in the middle of your pay period, you must pay $16.65 per hour starting April 1, 2023 for minimum wage employees. You cannot wait until the next pay period.
For more information on minimum wages for federally regulated industries, visit the government website.
Overtime
The minimum required amount of overtime pay for federally regulated employees is 1.5x all regular wages. This applies to any hours in excess of eight hours per day or 40 hours per week, with some exceptions.
For more information on overtime for federally regulated industries, visit the government website.
-- Provincially Regulated Businesses in Ontario --
Businesses that are regulated by the Ontario government are subject to the following minimum wages and overtime pay requirements.
Minimum Wage
In Ontario, the general minimum wage is $15.50. Students have a separate minimum wage of $14.60 per hour. While liquor servers used to have a separate minimum wage, they now receive the general minimum wage.
Nearly a million workers will benefit from bigger paycheques on October 1, 2023, as Ontario is expected to raise the minimum wage to $16.55 an hour.
For more information on minimum wages for businesses in Ontario, visit the government website.
Overtime
The minimum required amount of overtime pay in Ontario is 1.5x all regular wages for any hours in excess 44 hours per week, with some exceptions. More specifically, some positions are exempt from overtime rules while others have a higher threshold than 44 hours per week.
For example, managers and supervisors do not generally qualify for overtime. The same applies to ambulance drivers, paramedics, people who work in swimming pool installation or maintenance, commissioned travelling salespeople, and many other workers
Similarly, employees who work in the construction, manufacturing and mining, as well as other employees, often have higher overtime pay thresholds of 50 hours or more.
For more information on overtime for businesses in Ontario, visit the government website.
Contact Koroll & Company today if you would like to discuss minimum wage and overtime pay, and whether your business is an exception to the rules.